So I opened Baidu News about 7:30 this morning, and this is what I see: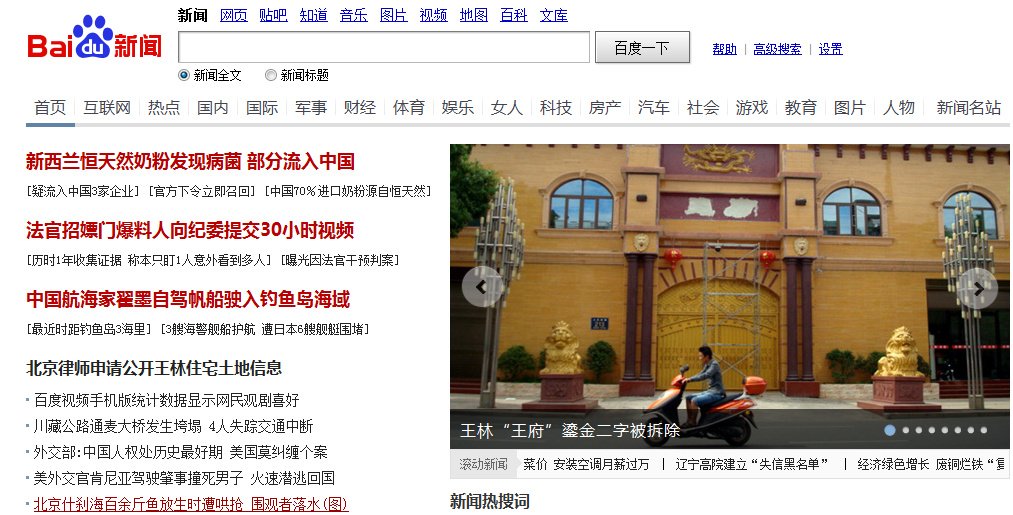 See the top headline? "Bacteria found in milk powder from New Zealand's Fonterra. Some has entered China." But actually, the first word in Chinese is New Zealand. Clicking through, we get the People's Daily article with a rather different headline:
质检总局要求立即召回恒天然受污乳粉 系中国70%进口奶源

AQSIQ demands recall of contaminated Fonterra milk powder. Accounts for 70% of imported milk.
Ok, for the dodgy translation file: I'm not sure what to do with the 系 here. The dictionary doesn't provide any help. "Accounts for" will do, that's more or less what the sentence says. And 奶源 – milk origin? milk source? Raw milk is about the closest English term I can think of, but raw milk isn't the issue here. But moving on…
So People's Daily doesn't actually have "New Zealand" in the headline, but suddenly it's gone from 3 unnamed Fonterra customers to 70% of China's imported milk. But this article is sourced from The Beijing News. I can't see it on the front page of their website, but it is at the top of the newspaper's front page. The headline is nearly identical, the difference being that "AQSIQ" is in pale grey characters in seal-like square and the 70% claim is a much more clearly worded sub-heading:
中国70%进口奶源来自恒天然

70% of China's imported milk comes from Fonterra
奶源 again… The other sub-heading is:
新西兰恒天然乳粉现毒菌,食用或中毒

Bacteria found in milk powder from New Zealand's Fonterra, ingestion could cause poisoning
So there we go, New Zealand, Fonterra, contaminated milk, in big, bold, front page coverage.
Fortunately the New Zealand Herald is on to it, with two near-identical articles co-authored by Christopher Adams, one with Matthew Theunissen, t'other with Nick Perry. And the reference to Weibo suggests they have somebody who can read Chinese there, and if so, then good, because what China publishes in English is for foreign consumption, what it publishes in Chinese is for the domestic audience – there's a very big difference. And what is being said on Weibo may well help the government, MPI and Fonterra realise just how serious a problem this is. Now what I'm seeing on Weibo is mostly posts and reposts of the news, not much commentary or reaction. But how's this? Complete with two angry emoticons:
一直担心的事情终于还是发生了!今早刷微博看到@多美滋1000日计划 二阶有问题!@恒天然中国 召回二阶!我想问,特么二阶都喝过了,你们还召回么?我女儿都喝到3了,整个二阶都被你们腐蚀过了,这种情况你们召回么?负责么?还想问你们,还有没有其他阶段还有问题却没有暴露的?给个痛快好么?

The thing I've been worrying about has finally happened! This morning a looked at Weibo and saw @Dumex 1000 day plan Stage 2 has a problem! @Fonterra China recalled Stage 2! I want to ask, we've already drunk all the Dumex Stage 2, and you're still going to recall it? . My daughter has drunk up to 3, all of Stage 2 has been ruined by you, and in this situation you recall? Take responsibility? I still want to ask you, are there any other stages that have a problem but still haven't been revealed? Make me happy, alright?
And notice the attached photos, which include the official recall notice from Dumex as well as labels of Dumex cans. Now, I think she's overreacting and has nothing to worry about – the numbers I see on the labels don't match those in the recall notice. But when it's the health and safety of one's own child at stake, one does tend to get a bit emotional. So an understandable overreaction.
And of course, this constitutes good news for some. That account belongs to somebody claiming to work in Brussels who sells Belgian infant formula on Taobao. Check out this post:
#新西兰奶粉#不 是第一次出事了,近几个月来就好几起,上次是氰化物超标,这次是肉毒杆菌。上网搜搜舆论,很有意思,新西兰代购纷纷出来辟谣:奶粉上哪个批次哪个批次出问 题,其他不要紧。结论下太早了吧。还有人说"全世界最可靠的新西兰奶粉都出问题了,还咋办啊?",怎么新西兰就全世界最可靠了?

#New Zealand milk powder. This is not the first time a problem has occurred, there've been several incidents in the last few months. Last time it was excess cyanide, this time it's botulinum. Get online and look through the discussions, it's very interesting, New Zealand buyers are coming out one after the other to deny the rumours: which and which batches of milk powder are affected, the others you don't need to worry about. They've drawn their conclusions too quickly. And other people say, "The world's most trustworthy New Zealand milk powder has a problem, what can we do?", how is New Zealand the world's most trustworthy?
Cyanide now! Wow! I certainly read about excess nitrites, but cyanide! Well, I guess scaring people away from New Zealand will be good for this person's business. And from this reply to a post on the topic from an account belonging to somebody who sells New Zealand produce on Taobao:
目前全球只有#欧盟奶粉#没出事情了,#欧盟标准全球最严格#,我在#欧盟总部比利时首都布鲁塞尔#,值得相信

Up till now in all the world only #EU milk powder# hasn't had any incidents, #EU standards ar the strictest in the world#, I'm in #EU headquarters Brussels, Belgium#, worth believing
Worth believing, indeed. Last I heard, Fonterra also supplies to many European brands.
And something a touch more reasonable from the Changsha Evening Post:
新西兰乳品受污中国企业别沉默!对消费者真诚,是最好的公关。

New Zealand dairy products have been contaminated, Chinese companies don't stay silent! Being sincere to the consumers is the best public relations.
Indeed. It seems Dumex has informed its customers that some of its products are affected, so we're now up to two of the affected Fonterra customers, but who are the other six?
Now back to that TBN report: There's no new information in there. The first part reads very similar to yesterday's Mirror article, the rest like a translation of what's in AP or the NZ press. But there's the problem. 6 of the 8 affected customers, including 3 in China, remain unnamed. Add in this 70% figure. So long as the affected Fonterra customers remain unnamed and so long as we don't know which particular products may have been contaminated, doubt is going to be cast on all made in New Zealand dairy products. I'd be willing to bet if I pop round to any random supermarket and watch the infant formula shelves I'll see people pick up a can, see "made in New Zealand", think "hmmm, yummy yummy botulism" and put it back down.