A little comparison. Here's an article a friend emailed me this morning. It doesn't have a lot of information, but enough to know there's more bad news coming. For example:
Fonterra is still refusing to disclose which of its eight customers were potentially affected by the contamination, saying it was up to them and their regulatory authorities to make those decisions.

Managing director of New Zealand milk products Gary Romano said the contamination occurred as a result of a dirty pipe at Fonterra's Hautapu plant in Waikato.

"[After the contamination was detected] we went back immediately and isolated a very little used piece of pipework that was not as sanitary as it should be," he said.
And note that seems to have been written by NZ Herald staff.
Then in the Herald I find this AP piece. It does that usual lazy journalism thing of tacking a bunch of random semi-relevant factoids at the end, but notice how much more information it contains. For example:
New Zealand authorities have triggered a global recall of up to 1,000 tons of dairy products across seven countries after dairy giant Fonterra announced tests had turned up a type of bacteria that could cause botulism.

New Zealand's Ministry of Primary Industries said Saturday that the tainted products include infant formula, sports drinks, protein drinks and other beverages. It said countries affected beside New Zealand include China, Australia, Thailand, Malaysia, Vietnam and Saudi Arabia.

[…]

New Zealand's Ministry for Primary Industries said Saturday that New Zealand company Nutricia had used some of the tainted product in its Karicare line of formula for infants aged over 6 months. Nutricia had locked down all five batches of infant formula it believed contained the tainted product, the ministry said. But it advised that parents should buy different Nutricia products or alternative brands until it verified the location of all tainted Nutricia products.

China's product quality watchdog issued a statement urging importers of Fonterra dairy products to immediately start recalling the products.

The General Administration of Quality Supervision, Inspection and Quarantine also told quality agencies around China to step up inspections of milk products from New Zealand.

Romano said the problem was caused by unsterilized pipes at a Waikato factory. He said three batches of whey protein weighing about 42 tons were tainted in May 2012, adding that Fonterra has since cleaned the pipes.
Vague information refusing to reveal anything about who or what was affected vs. naming affected countries. Very little about what various agencies are doing vs. specific mention of AQSIQ, recalls, and stepped-up inspections. "…not as sanitary as it should be" vs. "unsterlised pipes". Refusal to name any Fonterra customer vs. Nutricia advising its customers what to do – and it seems to me like a very good response by Nutricia. Now, I don't expect the NZ Herald to have the kind of global resources AP enjoys, but surely they could've wheedled a bit more information out of Fonterra and noticed what a NZ company making a brand as big as Karicare was doing?Update: Christopher Adams is on to it:
The affected product is Nutricia Karicare follow-on formula for children from 6 months old, the ministry said.

"Nutricia has advised that three of those [five] batches are in a warehouse in Auckland, one is on a ship, and the other is in storage in Australia," said the ministry's acting director general, Scott Gallacher. "Nutricia has advised it has locked down those batches, and they will not be sold on the market … MPI is still in the process of verifying this information, and today sent a team to Nutricia's Auckland warehouses."

Gallacher said that until the verification process was completed, parents should use Karicare formula for children 0-6 months or an alternative brand.
This morning I searched Baidu News for 恒天然 (Héngtiānrán, Fonterra's Chinese name) and saw nothing relevant. I had another look a few minutes ago, and wow, what a difference half a day makes. Seven of the eight top results are this botulism contamination incident. I'll run with the first article, on Netease, which is sourced from a paper whose English name is The Mirror. Clicking through to The Mirror's website, I notice this article is top of the page. Here's what leaps out at me:
The Mirror contacted the New Zealand embassy for comment. Not much comment was provided, because it's a weekend, so more information needs to be gathered, but the comment I found to be constructive.
AQSIQ also contacted the New Zealand embassy requiring action from New Zealand to sort this problem out.
Three of Fonterra's Chinese customers have received contaminated product, but it doesn't name which three. Still, AQSIQ has required them to immediately recall the contaminated products.
I note Fonterra CEO Theo Spierings is on his way to China. I hope that suggests Fonterra has learned from the DCD scandal earlier this year. It will be interesting to see how this story unfolds.
Update: Just grabbed a dead tree copy of The Mirror from my local newsagent: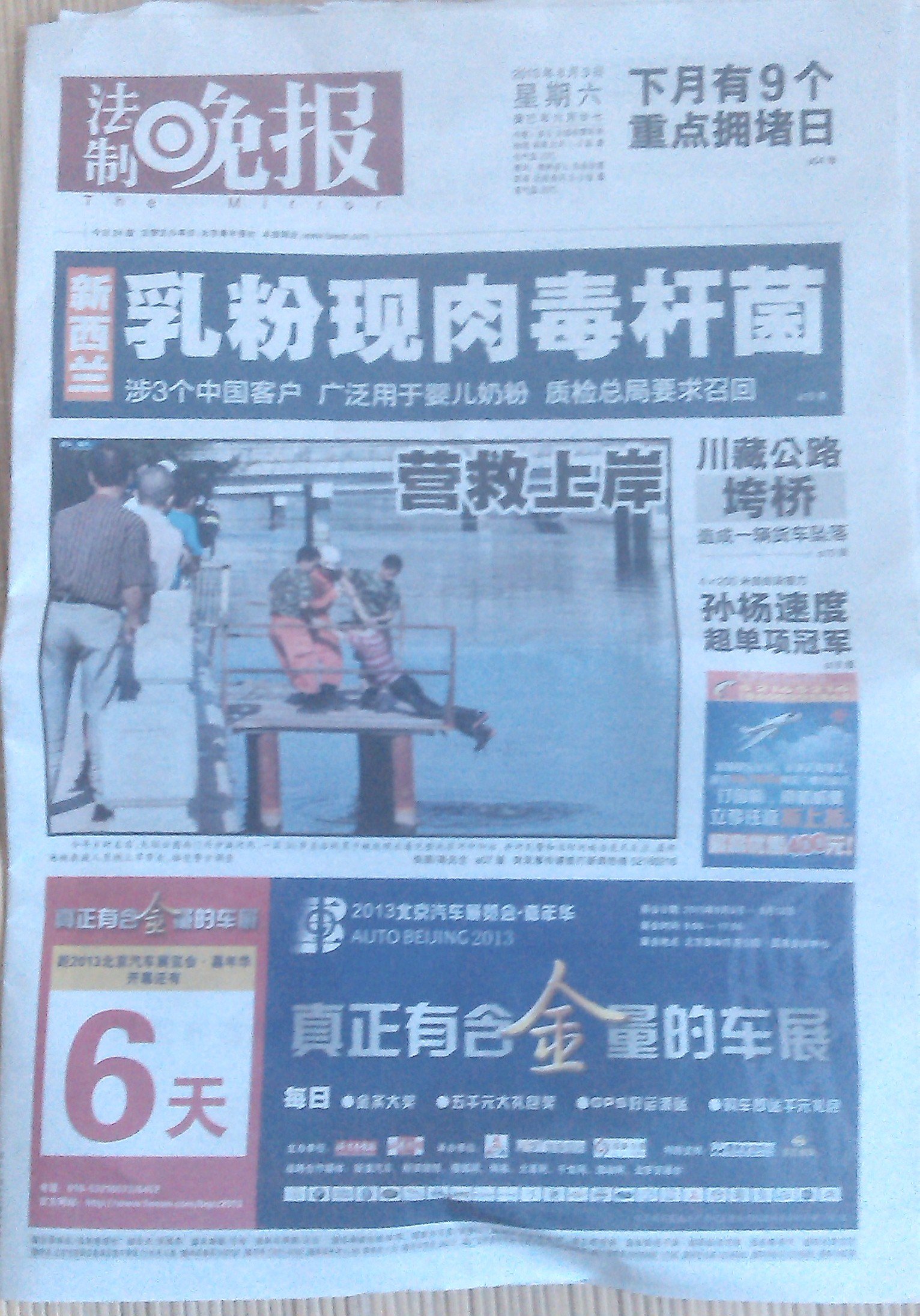 Yeah, I know, it's a crap photo. But see that headline at the top? Blue rectangular background with big white characters? The vertical orange triangle with white characters at the left end says "新西兰" – New Zealand. The headline proper says "Botulinum found in milk powder". I really hope Fonterra has learned its lessons.