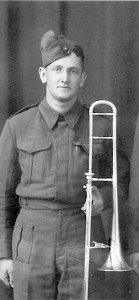 Lawrence James Daly
7 October 1921 to 28 March 2009
Grandad
Today the promised DVD of Grandad's funeral and the CD with the pictures used at the funeral arrived. I'm not sure what I can say about watching my Grandfather's funeral on DVD. I could almost feel his presence, like that big, strong, wise man who was such an important part of my childhood was watching from a close distance. My wife is convinced I look like him. I was surprised, but not surprised, to discover that his favourite book of the Bible is Romans. Romans and Ecclesiastes are my favourites. The photo of him as a soldier holding his trombone is one I somehow very clearly remember seeing when I was little. I also played the trombone in my younger days.
There was many a comment made on his garden. My mum and one of her multitude of brothers seemed a little jealous at just what us grandkids could get away with in Grandad's garden. Uncle Ray said that sometime last year when Grandad had pneumonia, he recovered, saying that he'd arrived at the Pearly Gates, but he was told to go back, they weren't ready for him yet. Yeah, they were still fixing up Heaven's vege gardens, getting everything planted in neat, regimental rows all properly labelled.
Is it possible for somebody's death to leave both a gap and an eternal presence?